Description
Teacup Cottage by Thomas Kinkade
Sweetheart Hideaways III. January 1997.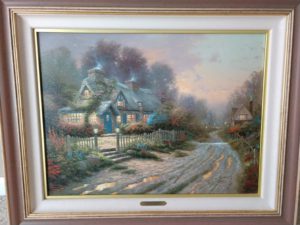 18 x 24 Standard Numbered canvas. 2372/2950 Framed (sold out from Publisher).
For my wife Nanette, the service of tea is a fascination and a fine art. I've borrowed her collection of exquisite china tea services and put it on display in my new Teacup Cottage. This romantic hideaway is the last painting in the Sweetheart Hideaways collection and is a tribute to my sweetheart; the misty English countryside is perfectly suited to her favorite refreshment.
-Thomas Kinkade
This Limited Edition is sold out from the publisher, but the Thomas Kinkade Zionsville Gallery has 1 Studio Proof Canvas that has been hand signed and hand embellished by Thomas Kinkade in inventory.  Contact us at 317-873-3288 or email us at info@cvartandframe.com.